EDITING IN PROGRESS FOR EPISODE LIST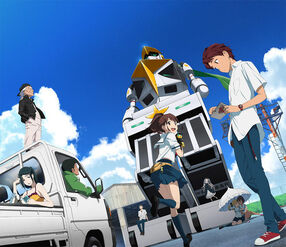 The Robotics;Notes anime is an adaptation of the visual novel Robotics;Notes, originally developed by MAGES.. The anime adaptation for the visual novel Robotics;Notes was initially annouced on March 30th, 2012 by Fuji TV. The series aired on Fuji TV's Noitamina slot between October 12, 2012 and March 22, 2013. The anime series was produced by Production I.G. and directed by Kazuya Nomura, with music by Takeshi Abbo and Yüki Hayashi.
For episodes 1-11, the opening theme is "Junjō Spectra" (純情スペクトラ Junjō Supekutora, Naive Spectra) by Zwei and the ending theme is "Umikaze no Brave" (海風のブレイブ Umikaze no Bureibu, Brave of the Ocean Breeze) by Fumika. For episodes 12-22, the opening theme is "Hōkyō no Messiah" (咆筺のメシア Hōkyō no Meshia, Hōkyō's Messiah) by Haruki and the ending theme is "Topology" (トポロジー Toporojī) by Kanako Itō. Funimation Entertainment licensed the anime for streaming on their website. The series was released in two BD/DVD volumes in North America: part one on February 18, 2014 containing episodes 1–11, and part two on March 25, 2014 containing episodes 12–22.
Episode List
Episode #
Episode Title
Release Date
1
Because GUNVARREL Is Waiting
October 12, 2012
After Akiho hands in a budget request to their club to the staff room, both she and Kaito visit an old hangar containing a large robot the Robotics Club has been working on since its foundation, GunBuild-1. The next day, the vice-principal agrees to give the Robotics Club their proposed budget on the condition that they win a robot tournament taking place in two weeks' time, with the club to be disbanded should they lose.
2
Because of Dreams, Hopes, and Passion
October 19, 2012
Needing a robot for the tournament, Kaito and Akiho find an old hobby robot, the "Tanegashi Machine", in storage, only to find its batteries have run out. Akiho goes to see an old man named Tetsuharu 'Doc' Fujita to try to get some new parts, but finds they are too expensive. Kaito also has to deal with Akiho's "elephant mouse syndrome", an ailment she acquired following the S.S. Anemone Incident seven years ago.
3
Tanegashi Accel Impaaaaaact!
October 26, 2012
Kaito and Akiho go with their teacher, Mitsuhiko Nagafukada, to where the Robo-One tournament is being held, though they have no hotel to check into. As Kaito practices with the robot, he experiences a strange sensation for a brief moment. The tournament soon begins and Kaito manages to use his tactics to get through the preliminaries and into the finals. Before the final match, Akiho starts to grow concerned about Kaito, who hadn't gotten a lot of sleep prior to the tournament.
4
Together, Let's Build a Giant Robot of Justice!
November 2, 2012
Akiho tries to get her father, Ken'ichirō Senomiya , who is the president of the Tanegashima Space Center, to fund their giant robot project, but her mother soon quashes that line of thought. Later, Kaito is called to meet with Frau Koujiro, whose real name is Kona Furugōri, to help her move into her dorm as a transfer into his school.
5
Is It Okay If I Call You 'Big Brother'?
November 9, 2012
Becoming curious about the girl she saw the other day, Kaito hears from Junna about various sightings of the girl. As Akiho and Subaru deal with an interview for the Robo-One tournament, Kaito and Junna go to the beach, where they encounter the cadaver of a beached whale. Hearing that Junna has retired from the karate club, Kaito suggests she pay a visit to the Robotics Club. Later that night, Kaito hears the strange voice again, leading him to an abandoned building, where he finally encounters the girl through his Poke-Com.
6
It's So Sad When a Dream Ends
November 16, 2012
As Junna stops by the Robotics Club and agrees to join, Kaito recalls what Mizuka told him about how Akiho's sister, Misaki, was allegedly friends with Airi. As Kaito once again visits Airi later that night to hear more details, including how Kō Kimijima created her, he follows a strange noise to an underground room, where he finds an EGI device used to send frequencies into outer space.
7
Thank You Berry Much
November 23, 2012
As Akiho tries to think of a way to help Subaru, Kaito realizes from Junna that the sounds coming from the EGI Device was the tune of "Kagome Kagome", the lyrics of which had been sent to millions of people during moments where Poke-Coms simultaneously froze.
8
I'm Nae Tennōji. Nice to meet you!
November 30, 2012
Kaito and the others are taken to JAXA, where Nae explains that JAXA wants to support the production of their giant robot. However, Akiho rejects their offer when they suggest they build a new one from scratch instead of completing GunBuild-1. Later, Kaito works with Airi to find the location of a second report by Kimijima.
9
The Fruit of all the Blood, Sweat and Tears
December 7, 2012
While the others go to a festival in town, where they also run into Nae, Kaito helps Kona continue her search for cheaters, introducing her to Airi and telling her about the Kimijima reports. The next day, the club assembles the top and bottom halves of GunBuild-1 together, completing its construction, although Akiho worries that she has not heard from Misaki.
10
A Robot Only We Can Build
December 14, 2012
As Kaito determines the Kill-Ballad cheater, a strange electrically-charged stone called a monopole falls from the sky and lands before him. As Akiho theorizes she could use more of them to power the GunBuild-1, Subaru suggests she give up and work on a new robot with JAXA.
11
The Flag Has Been Set
December 21, 2012
As Kona becomes intrigued by rumors of Gunvarrel's last episode being leaked, she and Kaito go to resolve the conditions needed to unlock the third report, finding the tasks pretty tedious. As Kaito manages to beat the Kill-Ballad cheater while passing the time, the IRUO software Kona uses to detect cheaters gets infected with a virus, presumably from the cheater himself.
12
Until You Like At Least One Thing
January 11, 2013
Despite Misaki's warnings, Kaito starts gathering flags for unlocking the fourth report. Later, Junna learns that Tetsuharu has been taken into intensive care, though he refuses to see her when she comes to visit.
13
What a Crazy World
January 18, 2013
Kona laments about her past, when her mother left for work one morning and never came home. The group celebrate Nae's birthday while figuring out how to make GunBuild-2 move while Kona had remained confined to her apartment for several months. Akiho and Subaru task Tetsuharu with making a motor from the monopole while Kaito tries to make sense of "Kimijima's Report No. 4", which details "Project Atum": a purported robot rebellion.
14
Just for a Little Bit...
January 25, 2013
As the robots continue to run rampant in Tokyo, Kona explains to Kaito that the administrative login to Roboratory Industry's Cloud Server has been locked by the hackers with a Kill-Ballad battle round. In the city, Misaki has a word with Exoskeleton's president about the state of affairs, with the latter remarking that the rogue robots is but a test-run of Project Atum: to cause a robot uprising, leading to planetary chaos and also commenting on Miniami Furugōri's brainwashing becoming undone towards the end of the Gunvarrel anime, allowing her to embed propaganda images as well as the Kagome, Kagome melody in the leaked footage.
15
I'll Show You a Dream
February 1, 2013
As solar flares start affecting computers and Poke-Coms alike, Airi starts showing up on Poke-Coms besides those of Kaito and his friends and begins acting strangely. As planned maintenance on the Iro-O system is scheduled which could potentially erase Airi, Kaito is left with little room to fulfill the conditions for the sixth report before Christmas Eve.
16
I Love Giant Robots
February 8, 2013
A road accident is revealed to be responsible for crippling Mizuka and she receives exoskeletal legs from Misaki enabling her to walk again. The Robotics Club successfully complete the basic construction of GunBuild-2. By using the monopole motors and a laser-activated fueling system, they put it through its first activation test.
17
As of Today, The Robotics Club is Disbanded!
February 15, 2013
After Kaito, Akiho and Mitsuhiko pay their respects to Mizuka, the vice-president announces that, following Subaru's accident, the Robotics Club will be disbanded and their cooperation with JAXA halted, ordering all the robots they've made to be dismantled. As Kaito, against his better judgement, goes to download the seventh report, he is confronted by Toshiyuki Sawada of Exoskeleton Inc., who questions him about Kimijima, though Kaito refuses to answer him.
18
The True Gunvarrel is In There!
February 22, 2013
Kaito and Akiho travel to the Tokyo Expo with their robot, where they discover they have to share a hotel room. As Kaito has nightmares that night, Akiho asks him to be a bit more open with his troubles.
19
I Should Never Have Had a Dream
March 1, 2013
Sawada's first shot has no effect on Misaki, and he starts unloading before being tackled by Kaito, who urges Akiho to chase after Misaki. As the Kagome, Kagome tune soon starts playing from the Arena's PA, Akiho watches in disbelief as Misaki boards the Sumeragi and begins wreaking havoc within the expo, by destroying the other robots.
20
Even Now, Does She Still Love Robots?
March 8, 2013
As Mitsuhiko begins streaming the encounter via Iru-O, Kimijima reveals that on the day of the S.S. Anenome incident he had been planning on using the passengers as test subjects for an electromagnetic radiation experiment but was murdered by Misaki to save Kaito and Akiho when she caught onto his plans. Afterwards, Kimijima began appearing to her through the Iru-O network, threatening to reveal what she did along with Kaito and Akiho, forcing her to cooperate with his plan.
21
Gunvarrel Takeoff!
March 15, 2013
While everyone else works on fixing up the GunBuild-1, Kaito, Nae and Airi head to Kimijima's lab to retrieve data for the device Sawada gave him, although Kaito undergoes a seizure when he attempts to activate it.
22
This is Our Game Now
March 22, 2013
Kaito arrives before Misaki, with the others helping to divert the missiles she fires using AR decoys, although Kaito is forced to use the Slow-Mo and sacrifice one of his pile bunkers to dodge the last one. Kaito manages to get up close to Misaki's Sumeragi and use the Slow-Mo to attack her with the other pile bunker.
Community content is available under
CC-BY-SA
unless otherwise noted.