Kill Ballad



Creator

Platform

Genre

Online First-Person Fighter
Kill-Ballad (キルバラード) is a downloadable fighting game for the PokeCom, developed by Frau Kojiro and based on the anime, Gunvarrel. Players take control of various mecha robots based on mechas from the anime and fight opponents on arena stages. Gameplay is in first-person and the game features online capabilities, heavily focusing on PvP competition. Kill-Ballad also features a leader board that ranks the top players in the world.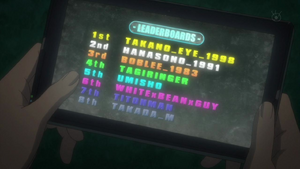 The top 5 players at the beginning of the series are:
1. TAKANO_EYE_1998
2. HANASONO_1991
3. BOBLEE_1983
4. TAGIRINGER
5. UMISHO

To advance in rank, one must defeat higher ranked players in online gameplay. However, defeating a player only once is not enough to advance one's rank and requires multiple consecutive victories.
Role in the Kimijima Reports
Edit
It is later revealed that the top 3 ranked players were killed several months before the events of Robotics;Notes.