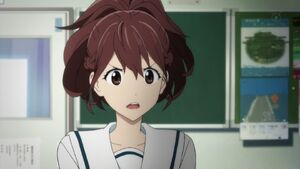 Kaito Yashio and his friend Akiho Senomiya are the remaining members of their school's Robotics Club. After Akiho hands in a budget request to the staff room, both she and Kaito, who spends his time playing games on his PokeCon device, visit an old hangar containing a large robot the Robotics Club has been working on since its foundation, GunBuild1, based on a popular robot anime, Gunvarrel, whose final episode was never aired.
The next day, the vice-principal agrees to give the Robotics Club their proposed budget on the condition that they win a robot tournament taking place in two week's time, with the club to be disbanded should they lose. As Kaito and Akiho contemplate if they can pull off such a feat, a mysterious girl is seen making a report.
_______________________
Cultural References:
"Gunvarrel" is also a homophone for the japanese slang phrase "gambarou" (がんばろ[う]) which mean's to try one's best.